Almost forgot about this place! It's been so long since I've posted here...
Wishing everyone that celebrates a very Merry Christmas and Happy New Year!
In the midst of all this really hot weather, I had a dream last night that it snowed. I felt a little disappointed when I woke up, lol. As some of you may know if you remember some of my past comments and entries (some here and on Twitter), I'm not exactly a huge fan of the summer season. I've lived in the deep south all my life, so of course I'm used to the heat in late spring/summer. It's nothing new to me. But being used to it and enjoying it are really two different things. Of course, summer offers a few things I like, such as watching the fireflies (or "lightning bugs" as we call them here), or seeing the fireworks on the 4th of July. I guess I can find some good things from every season, but my favorite remains and probably always will be Fall.
Spring is my least favorite season.
Current Mood:

gloomy

How still we see thee lie
Above thy deep and dreamless sleep
The silent stars go by
Yet in thy dark streets shineth
The everlasting light
The hopes and fears of all the years
Are met in thee tonight

For Christ is born of Mary
And gathered all above
While mortals sleep
The angels keep their watch
Of wandering love
O morning stars together
Proclaim the Holy birth
And praises sing to God the King
And peace to men on earth!

Amen.
O little town of Bethlehem
Current Mood:

peaceful

Current Music:

O Little Town of Bethlehem
I spent the day baking a chocolate cake from scratch, making candy, last minute shopping, last minute wrapping, and cleaning the house. And I enjoyed it all! This is absolutely my favorite time of year. I actually look forward to spending time with extended family for Christmas Eve, and attending the Christmas Eve service at church. I hope everyone has a very Merry Christmas (or whatever you celebrate)!
Current Mood:

happy

Current Music:

"White Christmas" movie on AMC
Christmas Graphic Comments
I hope everyone had a wonderful Thanksgiving if you celebrate it.
Current Mood:

full
hoodie_time
and check out the comment fic meme they have going on right now!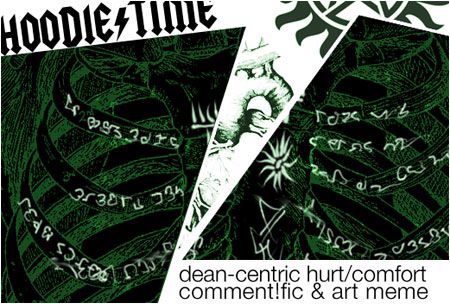 A Dean-focused h/c comment fic & art meme
[Click on the image to go to the meme.]

Banner courtesy of
kalliel
Also check out the wonderful stories written for my prompts:
"Home"
and
"Closed Doors"
.
If you like Dean h/c fic, head on over to
Happy Independence Day!
I'm spending a lazy day watching The Walking Dead and Twilight Zone marathons, and having burgers, hotdogs and sweet vidalia onions cooked on the grill. Great way to spend the holiday for me, even though it's raining. Hope you have a good one :)
To all my USA Friends List...
Current Music:

Walking Dead marathon